Unique Napa Valley Experiences
Unique Napa Valley Experiences
Acres of sun-soaked hillside vineyards. Beautiful accommodations near the top things to do in Napa Valley, paired with luxurious amenities. Indulgent spa treatments in the serenity of an underground Estate Cave. The best of Napa Valley's legendary wineries, just moments away. The Meritage Resort and Spa blends relaxed elegance with warm hospitality to bring you the ultimate vacation experience near premier Napa Valley attractions and activities.
Explore Our Property
Take the grand tour and map out all the attractions and activities you can't wait to explore once you arrive.
Take a Tour
Grand Reserve Living Room
Step into your Napa Valley escape in style at our Grand Reserve Valet & Lobby, which welcomes you in with warmth and ease.
Family Pool, Cabanas & Wellness Lawn
Spend hours cooling off together, hiding from the midday rays or exploring wellness exercise—all in one area.
Grand Reserve Fitness Center & Motion Studio
Align your mind and body in our state-of-the-art fitness center and motion studio with top-tier equipment and focused classes.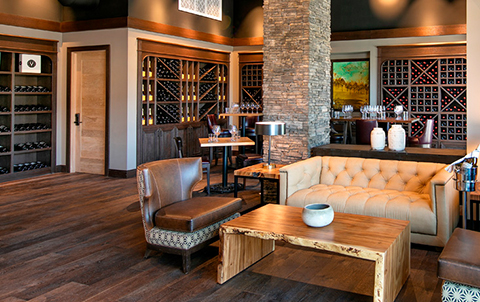 The Lawn & Tasting Rooms
Embark on palate-pleasing exploration in the fresh West Coast breeze or in one of our seven, rustically-designed tasting rooms.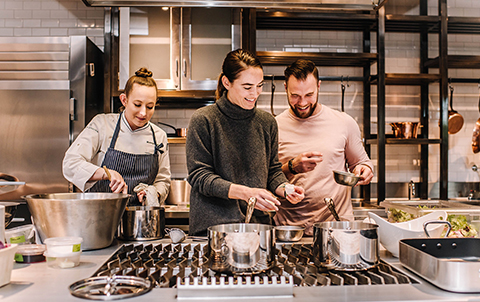 Food & Wine Center
Hosting signature cooking and baking classes led by our expert instructors, our Food & Wine Center is where culinary discovery takes shape.

Fivetown Grocery
Stocked with fresh, local and seasonal ingredients, as well as ready-to-go meals, Fivetown Grocery offers all-day quality and convenience.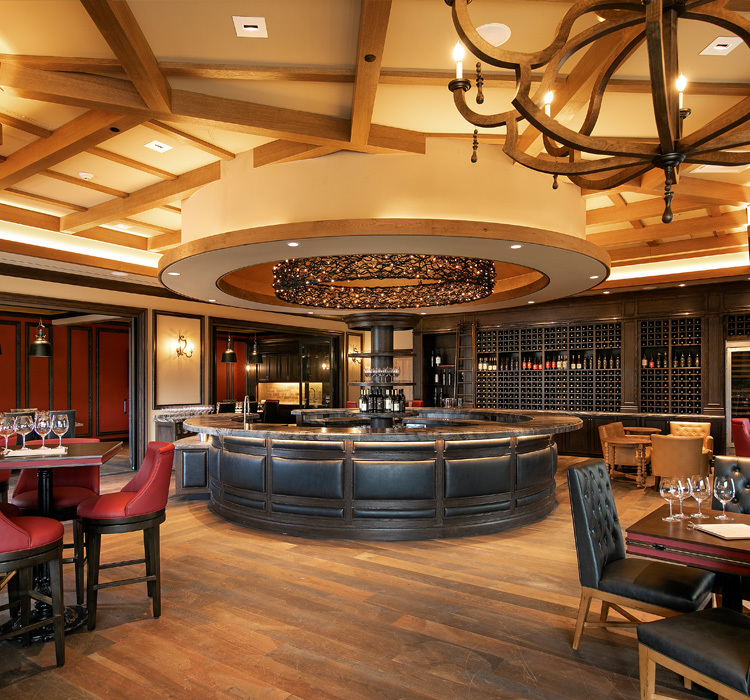 Trinitas
Enjoy pours from Trinitas Cellars, a renowned producer of Napa Napa Valley Chardonnay and Cabernet crafted in the iconic California style.
Rooftop Terrace
Overlooking the pristine rolling hills, the Rooftop Terrace elevates each moment, from casual occasions to private group celebration.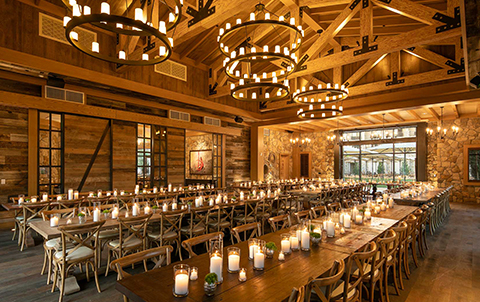 Vintner's Room
The intimate Vintner's Room is designed to host a variety of gatherings with a touch of warm West Coast ambiance.

Pet Area
Located on the northeast corner of the resort, our designated area will keep your four-legged family happy the entire stay.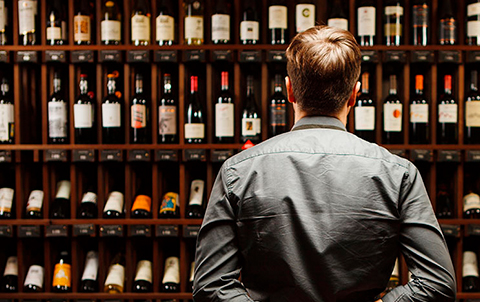 Main Lobby & Commons Bar
A central lounge for drinks, light bites and meaningful conversation, the Main Lobby Bar & Commons Bar is where the unforgettable begins.
Adult Pool, Cabanas & Terrace Pool Bar
An outdoor oasis featuring stunning views of the vineyards, this adults-only locale is made for relaxation any way you imagine it.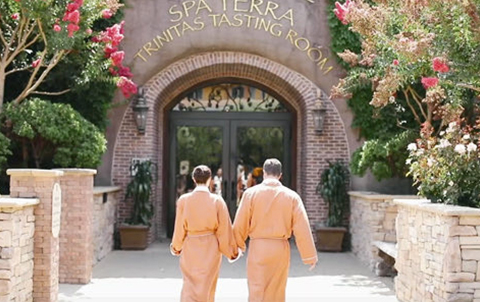 Spa Terra, Estate Cave & Cellar
An underground respite far from reality, this is where guests can experience rejuvenating treatments as well as special events and meetings.

Vineyard Deck, Chef's Garden & Chicken Coop
Nestled nearby in the hills, these spaces grant vineyard views, whether you're coming together for a private event or just taking in the atmosphere.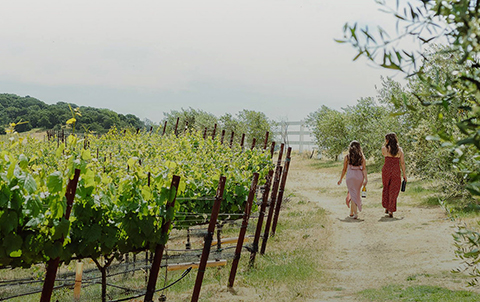 Vineyard Walking Trail
Immerse yourself in the surrounding landscape as you navigate through our pet-friendly Vineyard Walking Trail.
Olive & Hay Restaurant
Infused with local ingredients, our Italian resort brings farm-to-table flavor on the south side of our resort.

Blend Café
Enjoy a menu of healthy and hearty breakfast options in a quaint coffee shop setting.
Crush Lounge
Ease into the evening with some friendly competition and fun at our six-lane bowling alley and bar.

Chapel
Designed just for the guests of The Meritage Resort & Spa, our on-property chapel is located near many of our other amenities.
Carneros Ballroom
A standalone venue situated on the southwest end, our Carneros Ballroom provides picturesque privacy right near many of our accommodations.
Fountain Courtyard
A romantic spot known for its ornate fountain and string lights, this courtyard area welcomes spontaneous strolling and private events alike.

Fitness Center
Facing the verdant greenery, this Fitness Center offers a second location to stay fit during your time here.

Pet Area
Situated on the southeast corner of our resort, this is another dedicated area made just for your four-legged family.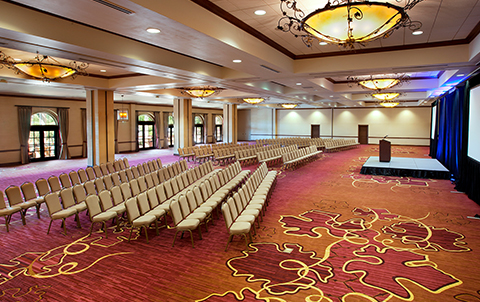 Meritage Ballroom
One of the largest venues in the region, the Meritage Ballroom is where grand meetings and celebrations come to life.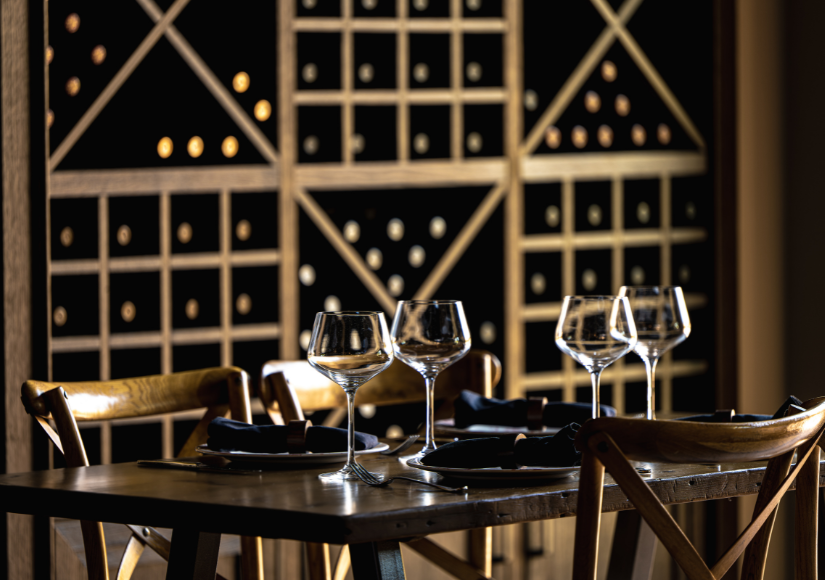 Village Bistro
Dine at The Village Bistro, our French influenced concept with a wine
country twist.
Grand Reserve Valet & Lobby
Family Pool, Cabanas & Wellness Lawn
Grand Reserve Fitness Center & Motion Studio
The Lawn & Tasting Rooms
Food & Wine Center
Fivetown Grocery
The Lawn Bar
Rooftop Terrace
Vintner's Room
Dog Relief Area
Main Lobby & Commons Bar
Adult Pool, Cabanas & Terrace Pool Bar
Spa Terra, Estate Cave & Cellar
Vineyard Deck, Chef's Garden & Chicken Coop
Vineyard Walking Trail
Olive & Hay Restaurant
Blend Café
Crush Lounge
Chapel
Carneros Ballroom
Fountain Courtyard
Fitness Center
Dog Relief Area
Meritage Ballroom
Thank you for your interest.