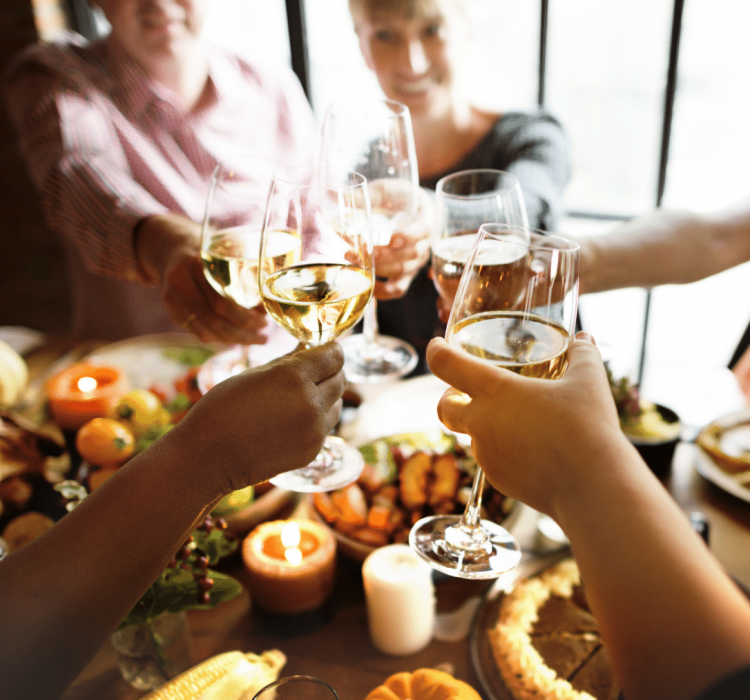 Thanksgiving Brunch
Get away and give thanks together, as you revel in moments shared and memories created. We'll be hosting a variety of family friendly activities, as well as a special meal that includes many different types of delicious foods that you'll be sure to enjoy.
Thursday, November 23, 2023 | 11 am - 4 pm
Ages 0 – 3 - FREE
Ages 4 - 13 - $45
Ages 13+ - $95
Breakfast Corner
Scrambled Eggs
Breakfast Potatoes - Bell Pepper, Onion, Cajun Seasoning
Eggs Benedict - Poached Eggs, Canadian Bacon, Hollandaise Sauce
Smoked Salmon, Mini Bagel, Flavored Cream Cheese, Red Onion, Tomato, Hard-Boiled Egg
Bread And Soup Station
Pumpkin Soup, Nutmeg, Pie Spice
Potato Leek, Crème Fraiche Chive
Assorted Bread from Our Bakers - Focaccia, Ciabatta, Crusty Baguette, Dutch Crunch Rolls, Potato Bun
Seafood On Ice
Poached Shrimp, Snow Cocktail Crab Claw, Tuna Poke, Crab Salad, Chimichurri Calamari Salad
On The Side - Lemons, Cocktail Sauce, Mignonette, Horseradish, Lemon and Lime Wedge, Mini Tabasco
Napa Valley Farmer Station
Assorted Crudité - Mini Vegetable, Roasted Garlic Aioli, Artichoke Dip
Mediterranean Display, Pumpkin Hummus, Baba Ganoush, Tzatziki, Marinated Olive, Grilled Flatbread
Salad Display - Assorted Baby Lettuce, Romaine, Baby Spinach, Baby Kale, Arugula, Cherry Tomato, Cucumber, Pickled Red Onion, Corn, Chickpea, Crouton, Walnut, Almond Dried Cranberry, Sliced Mushroom, Quinoa, Roasted Zucchini, Grilled Portobello, Green Goddess Dressing, White Balsamic Dressing, Red Whine Vinaigrette, Buttermilk Ranch Dressing.
Roasted Beet Salad - Arugula Goat Cheese, Candied Pecan, Truffle Dressing
Red Quinoa Salad - Grilled Fall Vegetable, Pomegranate, Pickled Red Onion, Apple Cider Vinaigrette.
Cheese And Cured Meat Display
Local Cheese, Marin Brie, Vela Jack, Laura Channel Goat, Fig Chutney, Honeycomb, Roasted Almond, Grapes, Dried Fruits.
Sliced Cured Meat, Finocchiona, Prosciutto, Genoa Salami, Coppa, Mortadella, Assorted Vegetables, Pickles, Whole Grain Mustard, Roasted Garlic
Carving Station
Brined and Roasted All Organic Smoked Diestel Turkey - Traditional Gravy, Sourdough Bread Stuffing
Slow Roasted Prime Rib of Beef - Au Jus, Horseradish Cream, Buttermilk Whipped Potato
Honey Glazed Ham - Clove Pineapple Sauce, Roasted Yams,
Main Course
Pan Seared Chicken Breast - Thyme Jus, Roasted Tomato, Cipollini Onion
Grilled Atlantic Salmon - Meyer Lemon Beurre Blanc, Grilled Artichoke, Fresh Dill, Local Baby Vegetable, All Spice Butter
Creamy Polenta - Grated Toma Cheese, Tomato, Condiment, Fresh Herbs
Green Bean - Caramelized Onion, Lemon Dressing
Ballerina Pasta - Tomato Conserva, Olive, Basil, Roasted Garlic
Traditional Mac And Cheese - Sharp Cheddar
Kids Menu
Chicken Tenders
Cheese Pizza
Tater Tots
Ketchup, Ranch, BBQ Sauce
Mini Cookies and Brownies
Assorted Mini Desserts and Pie
Booking link coming soon!